MINI EGG MUFFINS AND BIBAGO
This one is a total mom-hack... Breakfast on-the-go doesn't get more simple and tasty with these muffins and a great new tool called Bibago, created by an Indy mom!
 As a part of our ongoing egg series on social media, today's video is how to make mini egg muffins. We love these mini egg muffins on busy mornings because they are ready to go… and a heck of a lot better than a lot of the other handheld breakfast options.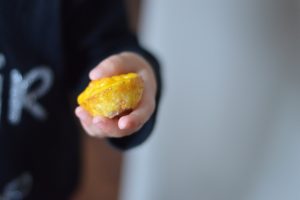 The muffins can be simple- we used ham and cheese in the video- but, can also be dressed up a bit. If you were hosting a shower or even a holiday brunch use spinach, sun-dried tomatoes and goat cheese. You could even just use the eggs whites.
I like that the kids can eat them easily in the back of the car without making a mess. Also helping prevent a mess in the car is the Bibago Bib Savannah is wearing. This is a neat bib created by an Indianapolis mom turned entrepreneur and friend of mine. The bib has a pocket with snap-in container for meals and snacks. (It also happens to be dishwasher safe.)
We put anything in the bib's container from goldfish while I am on long runs to oatmeal in the mornings to even just crackers walking around the house. Savannah loves wearing it.
Like these muffins, the Bibago is versatile… and handy. Talk about a mom hack…!
Below is the recipe for the muffins and you can learn more about Bibago here. I first wrote about the brand on my personal blog and will be sharing more of my story and how Bibago helps me on their platforms this month!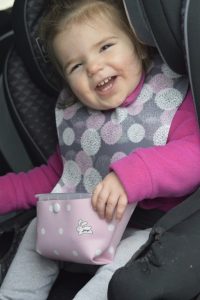 Mini Egg Muffins
Ingredients
6 large eggs
3 tablespoons of milk
A generous pinch of both salt and pepper
Topping Ideas: grated cheese, chopped ham, sautéed vegetables like mined red pepper or spinach
Instructions
Preheat oven to 350 degrees. Spray a miniature muffin pan with cooking spray or grease with butter.
In a large measuring cup or bowl, whisk together eggs, milk, salt, and pepper well.
Pour egg mixture into prepared pan. Only filling each muffin cup about ⅔ full.
Sprinkle toppings evenly among the cups.
Bake for approximately 12 minutes, or until eggs set.
Allow to cool in pan for a few minutes before removing to a wire rack. When completely cooled, muffins can be placed in a tupperware or even frozen, just wrap in plastic wrap first.
When ready to eat, simply microwave each mini muffin for 15-30 seconds. My kids don't hate eating them straight from the fridge either…!
Thank you Clair! These are so good and my kids love them. Read more about Clair and her great ideas at The Bloom Blog. Check out her amazing farm and recipes at Bent Arrow Acres. 
---